Hospital treats patients using 3D Intracardiac Echocardiography Catheter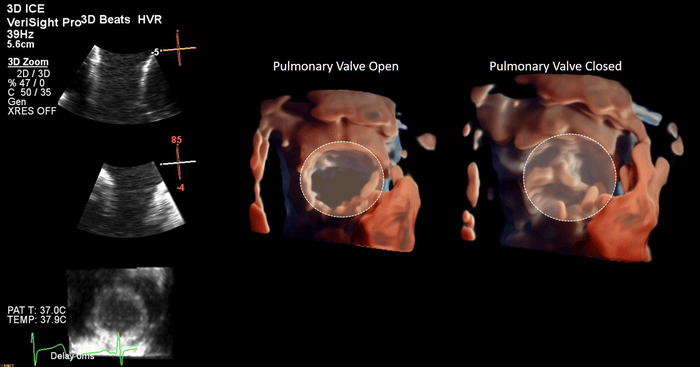 Doctors say 3D Intracardiac Echocardiography Catheters (ICE) can improve the standard of care for congenital heart disease and electrophysiology procedures by reducing the need for general anaesthesia, improving efficiency and expanding treatment options.
Children's Hospital Colorado is the first pediatric hospital in the world to use a 3D ICE catheter in the treatment of congenital heart disease in the Cardiac Catheterization Lab.
The live, 3D image guidance provided by the recently FDA-approved technology from Phillips allows cardiac interventionalists to better navigate complex procedures, which is expected to result in improved outcomes.
The first two pediatric patients were successfully treated at Children's Colorado in early December.
The ICE catheter uses traditional intracardiac ECHO combined with 3D echocardiography, miniaturised to fit on the tip of the catheter.
Cardiac interventionalists can use the new technology to navigate through a patient's heart during interventional procedures in the Cath Lab, without any significant additional time, risk or access points.
Gareth Morgan, MD, congenital interventional cardiologist with Children's Colorado said: "The quality of images we are able to acquire with the 3D ICE catheter is a huge step forward.
"In our first few cases, we already have a better understanding of the complex interaction between newly implanted valves and a patient's anatomy.
"We expect this will contribute to expanding treatment options for patients who might not otherwise have been good candidates for Cath Lab procedures."
Ultrasound imaging during cardiac catheterisation procedures typically relies on transesophageal echocardiography (TEE) imaging, in which the probe is passed down the patient's throat and into their oesophagus, until it lies next to the heart.
TEE requires the patient to be sedated or given general anaesthesia, which carries an additional degree of risk. With ICE, a miniature ultrasound is navigated to the patient's heart via their vasculature, the same route used during minimally-invasive cardiac procedures in the Cath Lab, therefore, general anaesthesia may not be required.
Notably, it puts a 3D ECHO probe in the centre of the heart, allowing visualisation of structures such as percutaneous pulmonary valves that cannot be clearly seen with other types of imaging.
As the only pediatric center with 3D intracardiac echocardiography, Children's Colorado has added to its array of unique high tech imaging solutions, which justify its claim to providing the most comprehensive Cath Lab imaging of any children's hospital in the world.
Dr. Morgan said: "At our Heart Institute, we lead the way in providing access to the latest minimally-invasive treatments for pediatric heart conditions for our patients.
"While other hospitals still perform open-heart surgery for many heart conditions, we are able to correct many more heart defects in our Cath Lab, which allows us to provide highly-specialized care at much lower risk."
Photo Credit – Gareth Morgan, MD