Robotics devices are the "future of surgery"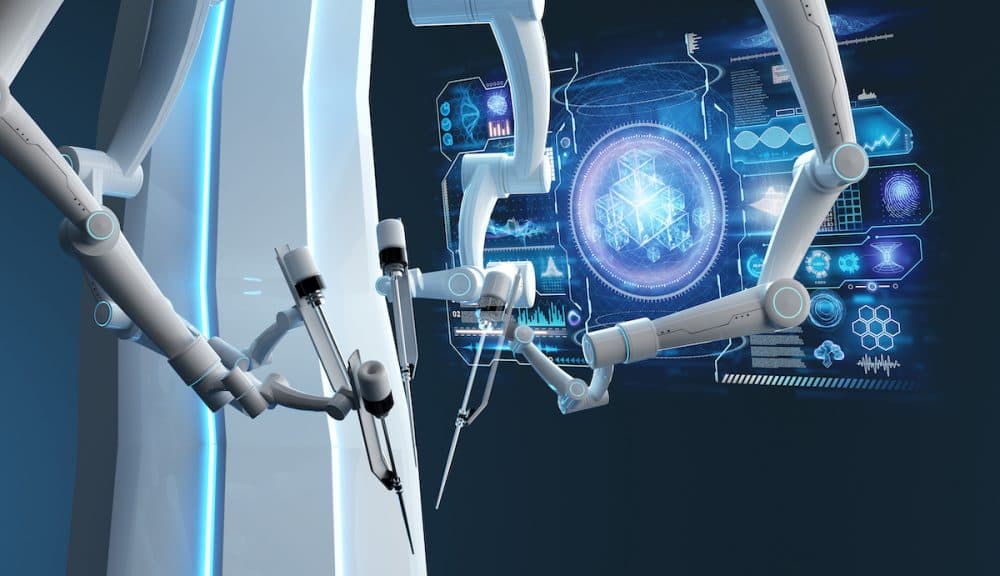 Following six months of specialist training, Mr Denis Tsepov has successfully led 27 complex robotic operations for severe endometriosis. He spoke to Health Tech World about the future of robotics in surgery
The private medical provider HCA Healthcare UK, the largest provider of privately funded healthcare, has become the first hospital group in the UK to train a robotic surgeon entirely in the independent sector.
The company is using the state-of-the-art da Vinci® Xi™ System, a device that continues to advance minimally invasive surgery across a wide spectrum of surgical procedures, by providing surgeons with an advanced set of instruments and an 'intelligent' patient table for use during surgery.
The surgeon guides the robot using a nearby console, which allows them to improve overall efficiency and precision when carrying out the surgery, compared to a more traditional laparoscopic approach.
From September 2020, Mr Denis Tsepov – a consultant gynaecologist who specialises in complex gynaecological cases – underwent a specialist robotics training programme at The Princess Grace Hospital.
It gave him the skills he needed to perform robotic-assisted surgery on patients with complex benign gynaecological conditions, such as deep endometriosis and fibroids. No other private sector hospital in the UK has trained a surgeon to use robotics for gynaecological surgery to date.
In the public sector, surgical robots have been used for the past several years in NHS centres dotted across the country, however the number of robots available for training is relatively limited in the NHS, Tsepova said.
"Because of the way [public] healthcare is designed, it has certain deficiencies in care delivery," he said. "Buying a potentially very expensive machine for robotic surgery is not feasible because we need more doctors, we need more nurses, we need to cut waiting lists.
"Buying a very expensive machine just because it's fancy in the NHS concept doesn't look very attractive. It's getting better, but if we compare the amount of robots in the UK and in the US, in the US there are a few thousand, but in the UK, I think it's just thirty.
"I'm not against the NHS concept, but it looks like it is a restricting factor in the UK."
The training programme involved a series of exercises, including virtual simulation training, e-learning, face-to-face training, lab teaching, and, finally, supervised patient cases.
"[using the device] was very natural. The first step of training was to sit at the simulator and understand how you move the robotic arms, how you move the camera and how you use the energy. You have to spend 35 hours plus on the console to get it right before you start doing anything else.
Tsepov moved onto animal models next before operating on a patient under supervision.
Although robotic surgical devices are yet to be widely adopted in the UK, Tsepov believes it is the "future of surgery". Just as laparoscopic surgery partially replaced open surgery, robotic surgery could follow the same process in the coming decades and ultimately drive efficiency and reduce costs for healthcare services.
"People said [laparoscopic surgery] was too fancy, too expensive, dangerous. [people] said it wasn't going to survive. But now laparoscopic surgery is a well-established technique.
"Now it's a new step and we're going through exactly the same process. The more publications that [become] available about robotic surgery then we'll see that yes, it's expensive, high tech equipment. But if you use it a lot, then it becomes cheaper for healthcare providers compared to open surgery and laparoscopic surgery."
Following the completion of his training on 13th April 2021, Denis Tsepov and his colleague expert colorectal robotic surgeon Mr Jim Khan successfully performed a unique operation.
The two surgeons carried out a discoid bowel resection for deep infiltrating endometriosis using the da Vinci® Xi™ System on a 21-year-old female patient who had suffered a decade of painful and debilitating symptoms. Mr Tsepov and Mr Khan believed this was the first robotic operation of this kind performed in the UK.
"For me, robotic surgery is by far superior to traditional laparoscopic equipment," Tsepov said. "It gives you a 4k, 3D view. It's not exactly virtual reality but it's very close because the visualization of what you need to operate on is absolutely amazing.
"You don't have to ask someone to hold your camera for you as we do with laparoscopic surgery."
In laparoscopy, the surgeon requires an assistant to support them and hold the camera. In robotic surgery, the surgeon is able to control all of the instruments without this help.
Tsepov also cited improvements to his physical comfort during procedures using the robotic device. Having carried out laparoscopic surgery for the past two decades, he has suffered from back and knee pain as a direct result of the uncomfortable positions that he has to remain in for hours at a time during complex procedures.
"With laparoscopy, you have to stand by the table in a forced position for maybe several hours and the professional hazards for the surgeon laparoscopy is back pain and knee pain," Tsepov said. "But, with the robot, you are not scrubbed because your console is away from the patient.
"You can stretch, you can change position, you can step out of the console and go back and that's very comfortable. It means you don't become tired and you don't have back pain. Access, comfort and freedom of movement are by far superior compared to traditional laparoscopy."
Tsepov has brought together a multidisciplinary team at the Endometriosis Robotic Centre, which is located at The Princess Grace Hospital. This is the first BSGE (British Society of Gynaecological Endoscopy) registered purely robotic private endometriosis centre in the UK.
The robotics training programme is guided by the HCA UK Robotics Steering Committee, to ensure that the latest innovations in training are continuously embedded in the programme. Surgeons, like Mr Tsepov, are selected extremely carefully to represent the best in their respective specialities, using their prior experience and clinical outcomes.
Kathryn Oakland, Head of Robotics at HCA Healthcare UK, said: "HCA UK recognises the vital role of robotics in the future of surgery. It is an area that is rich in innovation and we are passionate to marry this with the highest governance standards to lead the way in bringing minimally invasive surgery to many more patients.
To have trained the first robotic surgeon in the independent sector is a fantastic milestone in our established programme, and we will continue to do more in this space so that we can retain a leading role in patient access to innovation.
In addition to continuing gynaecology robotics training, there are plans for HCA Healthcare UK to expand its robotic training programme to include general surgery as well – including the treatment of colorectal conditions and hernias."