Pump alternative could save NHS hundreds per patient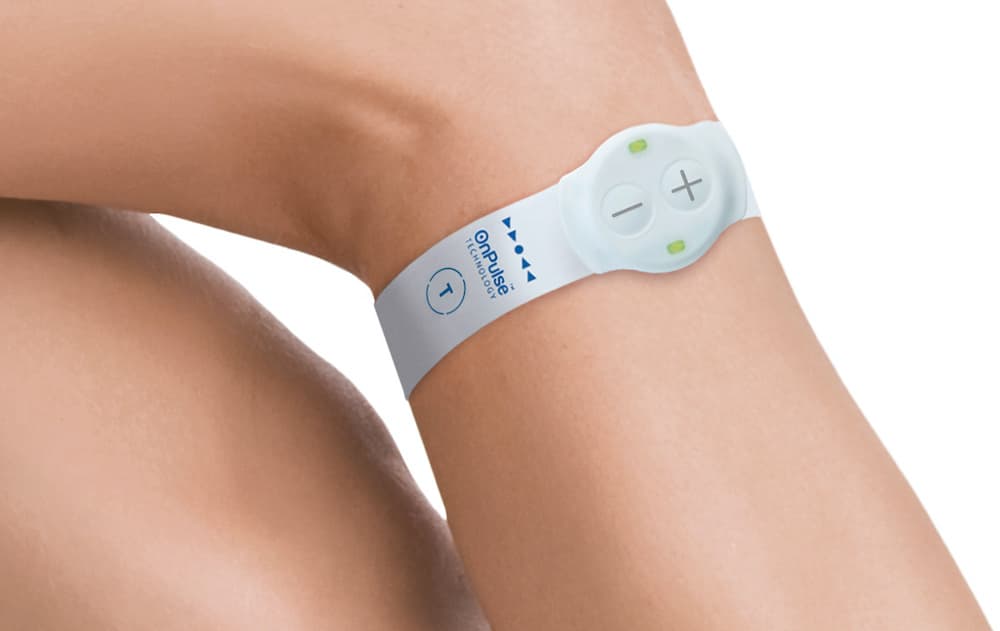 A UK company has developed a compact device that that straps around the knee with the ability to increase blood flow in bed-bound patients, reducing the risk of blood clots and preventing swelling.
Placed on the fibula in the knee, the Geko device looks very similar to a wristwatch. When the device is turned on, electrodes in the strap produce a small electrical current that simulates a nerve in the fibula. This electrical current is sent down the leg which activates muscle group movements, leading to increased blood flow.
Developed by Firstkind Ltd, the device is able to trigger an increase in blood flow equal to 60% of that which is normally achieved by walking.
Decreased blood flow is thought to be a root cause of a number of medical issues, including fluid leakage from the vascular system.
CCO of Firstkind, Andrew Thelwell, says: "When the Geko is in place, there is less leakage from the vascular system and increased reabsorption of the fluid that is leaked out into the tissues, which is the cause of swelling.
"We're able to reabsorb that fluid into both the vascular and the lymphatic systems. So, we reduce leakage and we're also faster at reabsorbing the fluid that does leak."
The Geko's ability to reduce swelling is particularly useful in an orthopaedic setting as it allows doctors to operate on the patient much earlier.
Thelwell says: "We have data that shows that you can operate on average two days earlier on a fracture that has been treated with the Geko."
Swelling is also a major issue in wound care, especially older patients suffering from leg ulcers. The Geko device is able to take oxygenated blood to the wound site as well as reduce swelling.
A 2017 study on the use of the Geko on ankle fractures at the South Tees Hospitals NHS Foundation Trust showed that the device could save £587 per patient.
Thelwell says: "If you have a fractured ankle, you may be admitted and put in a hospital bed until the swelling reduces enough to operate. That could be a hospital bed tied up for three days."
"The Geko could get rid of the swelling in the first 24 hours so you can go into the operating room the day after. Two days in that trauma unit in the northeast of England equated to £587 per episode."
The Geko devices are expected to be used by stroke units in 25-30 NHS Trusts by the end of this year, along with a further 10-15 orthopaedic departments. Thelwell says the product has been used in well over 100 accounts across the UK and thirteen other major markets.
Thelwell says: "We have a number of new accounts on the orthopaedic side, particularly in India and the Far East Asia Pacific. These are really starting to gather momentum now.
"We also have a lot of interest in the USA as well and we successfully launched in Brazil, in the middle of COVID."
In hospitals, patients who are bed-bound for prolonged periods are currently prescribed blood-thinning drugs or intermittent pneumatic compression (IPC) pumps.
These devices look similar to boots which extend up the thigh and are inflated and deflated to put pressure on the outside of the leg. Thelwell says the Geko can do this more efficiently and effectively than these pumps, which are currently the gold standard in UK hospitals.
"People ask how this is possible," says Thelwell. "How does this tiny device manage this? The answer is that it works from the inside out. Whereas current technologies work from the outside in."
Sky estimates that approximately 20% of stroke patients are unable to routinely use IPC pumps and many prefer not to wear them due to the noise and discomfort that the pumps produce.
A paper published by Barts Health NHS Trust indicated that the Geko device was able to move a higher volume of blood at a higher velocity than IPC pumps.
Sky has also carried out two major audits at Royal Stoke Hospital and at Luton and Dunstable University Hospital, which saw 15-30% of all patients admitted to the wards using the Geko device.
Thelwell says: "The thing with innovation is, sometimes it's best to position yourselves alongside existing technologies, rather than try and replace existing technologies from the beginning. We were happy to be positioned alongside IPC pumps."
"What Royal Stoke and Luton & Dunstable hospitals are doing now is if they can use the IPC pumps, they do use them. However, for the patients that they can't use them on, rather than do nothing, which leaves an 8.7% chance of the patient getting a clot, they use the Geko."
The device is listed on the NHS supply chain and Sky Medical Technologies are now in ongoing discussions with the NHS prescription drug tariff.
Thelwell says: "We know it's very important to get the clinical and economic rationale together. From our earlier work, we've shown we can create cost savings through deep vein thrombosis prevention, swelling control and wound healing."
When the coronavirus crisis hit, Sky Medical Technologies suffered operationally and experienced interruptions to its revenue.
However, despite this, Thelwell believes the COVID-19 pandemic has led to greater exposure to its technology, especially in ICU units.
The company was approached by the NHS supply chain to provide 4,700 Geko devices for the Nightingale Hospital.
Although the hospital didn't receive as many patients as they expected, the additional devices that went unused were distributed to other Nightingale hospitals across the country.
Thelwell says: "We started getting inquiries from ICU specialists and ICU units, saying they have heard about or used our device. Since then, we've had meetings with a number of trusts."
"There are three UK trusts at the moment that we are in discussion with about doing some clinical work on the Geko on patients in an ICU setting and we have another half dozen overseas."
Thelwell says the company is now back to what it was doing -pre-COVID, generating reference centres, key opinion leaders and encouraging doctors to publish and present on the Geko devices.
Sky are also resuming recruitment to its clinical trials which were put on a pause due to the pandemic.
Thelwell says: "We're very much picking up from where we left off, in terms of building that early market consensus and getting publications and presentations and key supporters in are key markets.
We're aiming to finish the clinical trials, report them, quantify the financial benefits, quantify the patient benefits. And then we're looking to move to mass market.