How coding is helping save lives during the pandemic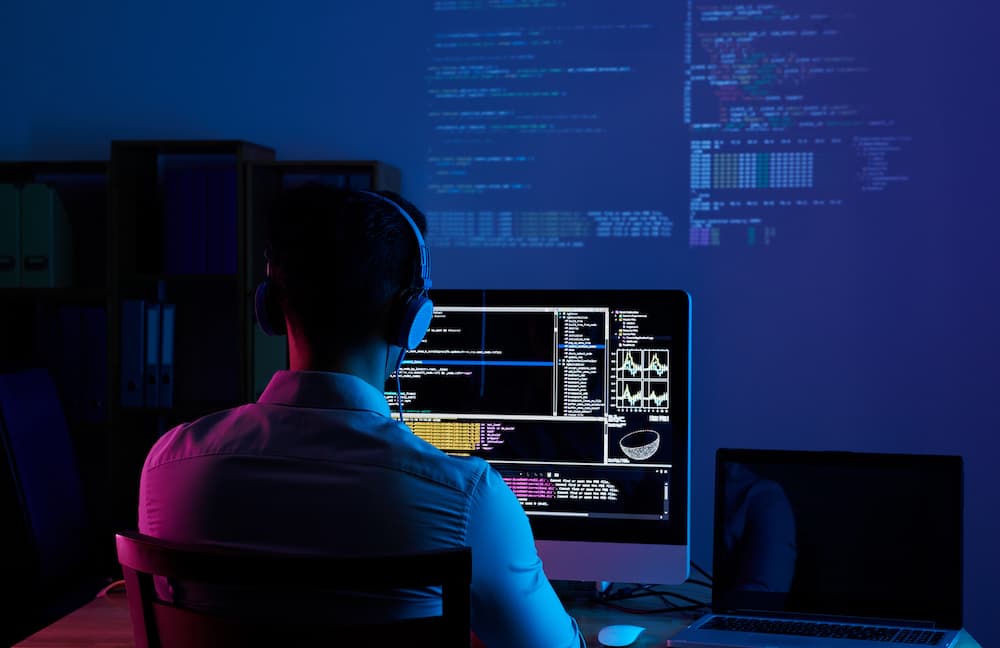 As the world continues to face huge challenges in the fight against COVID-19, the global healthcare and technology sectors have come together to drive innovation at an unprecedented speed.
Playing an important role in this global effort is IBM's Call for Code Global Challenge, an annual competition launched in 2018 which encourages coding experts to develop innovative new projects that will have a positive impact on the world.
Each year the competition calls on the world's 24 million developers to turn their attention to an urgent humanitarian issue and create sustainable open source solutions to help tackle the problem.
In February 2020, following two years focusing on natural disasters and its impact on health and wellbeing, IBM launched a competition to tackle climate change.
Not long after the launch, the COVID-19 crisis hit, and the competition quickly shifted its attention to the immediate challenges of the pandemic, creating a 'dual track' alongside the original climate change theme for addressing the global public health crisis.
IBM's Daniel Krook, who leads the Call for Code Global initiative, says: "The dual track was introduced for COVID-19 at the height of the first wave. We launched Call for Code in Geneva with the climate track initially. Then, as things were really starting to accelerate in March, we looked at a way of changing the programme to accommodate additional solutions and provide additional starter kits for developers to create solutions to address COVID-19."
The competition fits into the wider 'Tech for Good' movement which aims to promote technology that has a positive impact and seeks to solve social, economic and environmental issues.
Krook says: "What really sets the Call for Code programme apart is that we're not just a Tech for Good competition where apps are recognised and awarded. We work with teams to bring their projects to the next level."
IBM put in place an accelerated timeline, announcing some of the competition's finalists early. Over the last two years, IBM has announced the winners of the programme in October, however, to speed up the process, a number of finalists were recognised in early May at IBM's Think Digital conference.
One of the three finalists recognised is an app called 'Are You Well' The platform has been developed by Altran, a design and engineering firm which is part of the multinational consulting and technology services company, Capgemini.
The app, aided by IBM Watson, uses a multisided approach, which means it directly connects two or more populations allowing them to exchange value. Well-known examples of multisided platforms include eBay, PayPal and Facebook.
The initial purpose of Are You Well was to address capacity issues in hospitals by connecting patients with healthcare professionals. Altran describes it as a medical assistant system which reduces the stress on overtaxed medical workers.
Using AI, it assesses potential COVID-19 symptoms and connects patients showing severe symptoms with a medical professional. It also ranks users by severity of their symptoms to help clinicians prioritise cases.
Assistant vice president at Altran, Mark Ritzmann, tells HT World: "In March when we first started looking at the problem, I was in New York and I was very affected by things that we were seeing; the hospitals were overrun and medical tents were being set up in Central Park."
Altran could see potential for the platform to have applications in other areas. As the development of the app progressed and as COVID-19 continued to pose new challenges, IBM worked with Altran to help the company pivot in response to the immediate needs of the global community.
Not long after developing the first use case for connecting patients with doctors, Ritzmann and the team of developers at Altran began applying the technology to remote drug trials and most recently, the back-to-work effort.
"We approached it like we approach any engineering or design project," Ritzmann says. "We wanted to move it past the prototype and create an enterprise-grade app.
"From the start we were looking to put this into production and looking to make a platform with all the things you would expect to find in an enterprise grade app; scalability, extensibility and security."
The team at Altran had just five weeks to submit their application for the competition. In normal times, the company would run a 'hackathon' across a full weekend to drive the ideation process, but with lockdowns in place across the world, the company had to take the process online with virtual stand-ups and daily meetings.
Ritzmann said: "We've participated in Call for Code in the past and the way we did it was on a Friday night we would get 200 people in a room and by Sunday night we would have some great ideas to work on. This year, everything was virtual.
"Nevertheless, the speed at which the tech community responded was amazing and we are very proud to be part of that.
"As long-time partners of IBM, we worked with Daniel [Krook] and his team to understand IBM's technologies and the services we could use to make the whole thing faster.
"After about a week of ideation, we settled on the idea of Are You Well. From there we began the coding and the design and the multisided platform approach that we pursued."
This year's Call for Code ceremonies and celebrations were also taken online with virtual events in May and October. In previous years these events had taken place in person in either New York or San Francisco.
Krook says the necessity to host the Call for Code events virtually may have actually been a great thing for the sector, as it welcomed attendees from around the world and made the events accessible for young people interested in a career in coding.
Krook says: "Teams were recognised from around the world and we had so many great speakers involved. The best thing about it for me was that I could cast the event to my TV so my nine-year-old son, my father-in-law and my wife could all watch this amazing innovation coming together and be inspired by it.
"It's great that students had better access to the events as well, because now they'll be well aware of what can be created, and that coding can really make a difference."
COVID-19 has been a catalyst for accelerating the adoption and development of new technologies. This global push of innovation has brought coding front and centre, showing that it has the real potential to save lives. Krook believes this could be a lasting legacy of the coronavirus era.
"COVID-19 has really accelerated what tech can do," he says. "It's revealed the potential of tech, especially tech for good.
"The Call for Code process went a lot faster this year than it usually does, but the process we followed remained the same; we just compressed it. There's nothing like a deadline and competition to motivate you.
"In terms of the wider tech community, looking at some of the other submissions and what other tech companies are doing, I think it's incredible. I do think it's a lasting change and I'm very proud of the community at large."